In recognition of the Institute's work in intensive and integrated rural development programmes in Gonda District for over two decades, ICAR, Ministry of Agriculture, sanctioned a Krishi Vigyan Kendra to provide training and demonstration in the field of Agriculture, Horticulture, Animal husbandry, Forestry, Fisheries, Fruit Preservation, Agricultural Engineering etc. for the poorest of the poor families of the district. The objectives of the Lal Bahadur Shastri Krishi Vigyan Kendra, Gopalgram, are all round development of the farmers of Gonda district by adopting appropriate and modern technologies, so that the district become a model for rural development in India.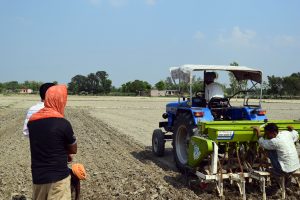 Appropriate technologies for different aspects of agriculture and horticulture, as well as several training and demonstration programmes have been conducted for the farmers in surrounding villages to help the local communities to adopt the latest techniques for development of agriculture and horticulture in these areas.
A small dairy with a view to improve the breeds of Cows in this area is functioning for expanding the dairy herd with different Indian Breeds. A one hectare fish pond and 4 small ponds rearing fingerlings. During last twenty years 50 million of fingerlings have been distributed to different villages where fishery tanks have been established after by villagers after training. New techniques of raising the fingerlings are also being tested.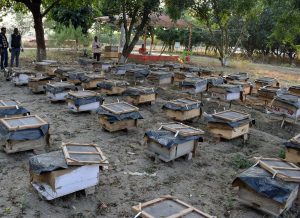 The KVK has undertaken a number of programmes for the promotion of organic farming. Some of these are as follows.
Promotion of organic farming on farmers field as well as own farms.
Conservation and procurement of local variety of different crops. like-wheat (Kathiya in Bundelkhand region) pigeon pea (Ramunia in Bundelkhand region), maize (malhipari in purwanchal region), paddy (Satha, Bagari in purwanchal region) etc.
Preparation of green manuaring, NADEP compost, wormi compost and FYM.
Seed treatment and use of cow urine & dung.
More use of Azatobactor, Rhyzobium culture, PSB & micorhyza culture with new agriculture technology.
Cultivation and conservation work on the indigenous technical knowledge.
Certificate issued by SGS India Pvt.Ltd. of the product and area of DRI or in according with the requirements of NPOP(INDIA) for crop and vegetable production.