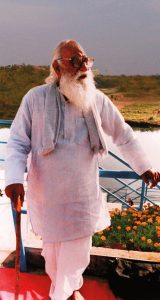 Nanaji Deshmukh is a person who needs no introduction. His sharp intellect and extraordinary organizing skill has put an indelible mark in Indian politics.
Born on October 11, 1916 in a modest Maharashtrian family at Kadoli, a small town in Parbhani district, Nanaji had little money to pay for his tuition fees and books. But he had such a burning zeal and desire for education and knowledge that he did not shy away from working as a vendor and selling vegetables to raise money for realising his objective.
Nanaji was deeply inspired by Lokamanya Tilak and his nationalist ideology. He showed keen interest in social service and activities. His family was in close contact with Dr. Hedgewar who was a regular visitor to Nanaji's family. He could discern immense hidden potential in Nanaji and encouraged him to attend RSS shakahas.
In 1940, after the death of Dr. Hedgewar, many youngsters inspired by him joined the RSS in Maharashtra. Nanaji was among those enthused youths who joined the RSS, devoting their whole life in service to the Nation. He was sent to Uttar Pradesh as a Pracharak. At Agra he met Deendayalji for the first time. Later, Nanaji went to Gorakhpur as a pracharak and established India's first Saraswati Sishu Mandir there in 1950. It reflects Nanaji's love for education and knowledge.
When the RSS decided to launch two journals "Rashtradharma" and "Panchjanya" and a newspaper called "Swadesh" in 1947, Shri Atal Bihari Vajpayee was assigned the responsibility of the editor, Shri Deendayalji was made the Margdharshak, and Nanaji the Managing Director. It was a challenging task as the organization was hard up for money to bring out the publications, yet it did never dampen their spirits and these publications gained popularity and recognition.
Nanaji actively participated in Bhoodan Movement started by Vinoba Bhave. By spending two months with Vinoba he was inspired by the success and appeal of the movement. When Jai Prakash Narayan gave the call for" Total Revolution" he responded by giving total support to this movement. When the Janata Party was formed, Nanaji was one of its main architects. Janata Party stormed into power by sweeping off the Congress and Nanaji was elected from Balrampur parliamentary constituency in Uttar Pradesh. When he was offered ministerial berth by the then Prime Minister, Shri Morarji Desai he politely refused it. For him politics was never a career but a mission. He was not the person who would stick to politics or office come what may. Of his own volition he announced his retirement from politics in presence of Jai Paraksh Narain and since then never looked back.
After that Nanaji had devoted his entire time to Deendayal Research Institute that he himself established in 1968. He established Chitarkoot Gramodya Vishwavidyalaya in Chitrakoot, India's first rural university and was its first Chancellor. The NDA Government headed by Shri Atal Bihari Vajpyaee nominated him as an MP in Rajya Sabha in the year 1999 as recognition to his services to the nation. He had been awarded "Padm Vibhushan" by the President of India in 1999 for his contribution in social service. He had also been honoured with several other awards by various other Institutions.
Nanaji believed to the core that upliftment of the rural poor and strengthening village life is the only solution for our Country's progress. His precepts "Gramodaya" and "Swavalamban" reflects the philosophy of the great personalities and States men like Swami Vivekananda, Bala Gangadhar Tilak and Mahatma Gandhi. In him, a great visionary and down to earth practical personality were blended together.
That is why, activities of all these centers ware conceived and designed in minute details by Shri Nanaji. The success of these programmes are mainly due to the detailed planning and able execution under the constant guidance of Shri Nanaji. Several thousands of youth inspired by his personality and magnetized by his touch are participating in the programs. The results achieved are always unique, astonishingly successful and even amazing some times. This was only possible because of his radiant presence.