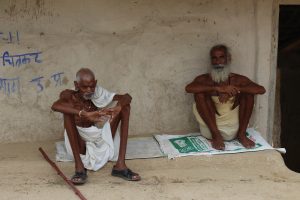 Poverty in India is still rampant despite an impressive economic growth. An estimated 250 million people are below the poverty line and approximately 75 per cent of them are in the rural areas.
In general, poverty can be defined as a situation when people are unable to satisfy the basic needs of life. According to the definition by Planning Commission of India, the poverty line is drawn with an intake of 2400 calories in rural areas and 2100 calories in urban areas. If a person is unable to get that minimum level of calories, then he/she is considered to be below the poverty line.
Causes of Poverty in India
• High level of dependence on primitive methods of agriculture
• High population growth rate
• High Illiteracy (about 35% of the adult population)
• Regional inequalities
• Protectionist policies pursued till 1991 that prevented high foreign investment
The Government has introduced a number of antipoverty programs since independence to alleviate poverty. These include various employment guarantee programmes such as National Rural Employment Programme, Rural Landless Employment Guarantee Programme etc. Recently, Government has initiated National Rural Employment Guarantee Program (NREGP). As per NREGP, the government will provide 100 days of employment per year to whosoever is willing to work. NREGP is considered as a landmark program in poverty alleviation measures.
These activities for poverty alleviation adhere to a fund-based development approach where there was little scope for people's participation, thereby affecting the sustainability of the initiatives and nullifying it effectiveness. Consequently, a large number of persons are still living below the poverty line.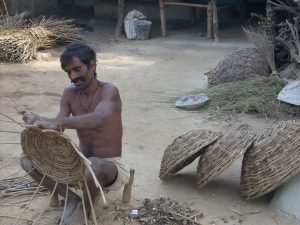 Interventions in the Self Reliance Campaign – Poverty Alleviation
| 1 | | Intervention | Activity |
| --- | --- | --- | --- |
| | Increase crop productivity and farm family Income | Crop Planning | Conducting Kishan Gosti/Farmers meeting |
| | | | Ensuring Optimum and efficient resource   Utilization |
| | | Crop and Varietal Replacement | Selection of crops and Variety |
| | | | Training & Demonstration |
| | | Seed Treatment and sowing technique | Training and Method Demonstration |
| | | | Seed Priming and Inoculation |
| | | | Line sowing/ Ridge and Furrow/ Raised beds |
| | | Crop Diversification | Substitution with short duration / Drought tolerant low water |
| | | | Introduction of High value crops |
| | | | Intercropping |
| | | Water Management | Training & Demonstration |
| | | | Rain water Harvesting |
| | | | Water Saving Irrigation Method |
| | | | Water Irrigation at critical crop growth stage |
| | | | Leveling and farm bunding |
| | | | Deep summer ploughing |
| | | Nutrient Management | Inclusion of legume crops in cropping pattern |
| | | | Biomannure production and incorporation |
| | | | Green Mannuring |
| | | | Use of RDF |
| | | Insect Management | Identification of insect |
| | | | Preparation and application of bio pesticide |
| | | | Need based application of chemicals |
| | | Disease Management | Identification of Disease |
| | | | Preparation and application of bio pesticide |
| | | | Need based application of chemicals |
| | | Weed Management | Identification of Weed |
| | | | Manual Weeding |
| | | | Need based application of   herbicide |
| | | Drought Management | Life Saving irrigation |
| | | | Application of water soluble fertilizers |
| | | Frost Management | Light irrigation |
| | | | Application of water soluble fertilizers/ Thiourea |
| | | | Smoking of field |
| | | Post Harvest and Safe Storage | Timely harvesting |
| | | | Proper Drying |
| | | | Fumigation of storage bins with neem leaves |
| 2 | Increased Livestock Productivity | Live stock planning | Pashu Palak Gosthi |
| | | | Farmers Scientist interaction |
| | | | Training |
| | | | Exposure Visit |
| | | Improvement of Genetic production potential | Awareness |
| | | | AI |
| | | | Natural Breeding. |
| | | | Introduction and increase of high yielding live stock |
| | | Feed Management | Awareness |
| | | | Training and demonstration for preparation of balance feed through locally available ingredients |
| | | | Enhancement of area and productivity of green fodder. |
| | | | Promotion of high yielding grasses and fodder trees. |
| | | Disease Management | Awareness |
| | | | Conducting of Vet. Camps |
| | | | Conducting of Vaccination camps |
| | | House Management | Awareness |
| | | | Trainings |
| | | | Pashu Palak Gosthi |
| | | | Demonstrations |
| 3 | Co-ordinated farming efforts | Formation of FIG | Formation of Seed Club |
| | | | Irrigation Users Group |
| | | | Commodity Groups (Vegetables, Cereals, Pulses, Oilseed, Spices) |
| | | | Collective Marketing |
| 4 | Establishment of small enterprises | Promotion of income generating enterprises for BPL | Awareness Program |
| | | | Motivation and Facilitation of SHGs |
| | | | Need Based Training |
| | | | Linkages with appropriate Govt. Schemes |
| | | Promotion of income generating enterprises for All | Awareness Program - Motivating and educating villagers |
| | | | Training for value addition of farms and forest produce (***) |
| | | | Village interest groups for value addition (***) |
| | | | Value Addition (***) |
| | | Promotion of Agri Enterprises | Awareness Program - Motivating and educating villagers |
| | | | Training for value addition of farms and forest produce (***) |
| | | | Village interest groups for value addition (***) |
| | | | Value Addition (***) |
| | | Small Savings | Motivation |
| | | | Saving Account |