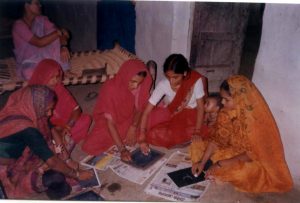 As per 2011 Census, the overall literacy rate of India is 74%. The difference between the highest and the lowest literacy rates is very high and is characterised by a wide gaps urban/rural divide. India has a large illiterate population. Most of people in the rural areas are illiterate, and do not even have the knowledge of how to become literate. Most villagers do not have the funds to educate themselves. There is also a wide divide in male and female literacy rates. \ The male literacy rate is 80.9% and female literacy rate is 63.6%. The social system in India promotes education for the male while the female population, especially in the deep interiors of the country, is kept away from schools.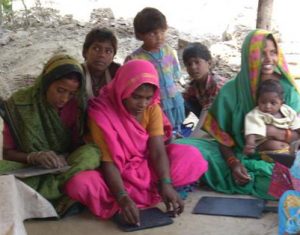 Several efforts have been made on part of the Government to deal with illiteracy. The National Policy of Education, 1986, declared that the whole nation must pledge itself to the work of eradicating illiteracy, particularly in the 15-35 year age group. The National Literacy Mission came into being in 1988 and started striving to involve all sections of the community in the literacy endeavour. The 1992 Education Policy envisaged free and compulsory elementary education of satisfactory quality to all children upto the age of 14 before India entered the 21st Century.
Despite all these efforts, no satisfactory result was obtained. Still, a large percentage of the population remains illiterate in rural areas. Deendayal Research Institute is taking measures to create awareness on literacy.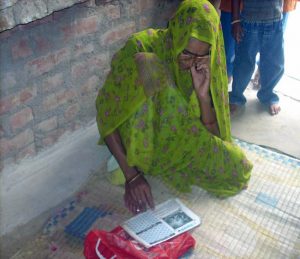 | Interventions in the Self Reliance Campaign - Illiteracy | | | |
| --- | --- | --- | --- |
| | | | |
| | Illiteracy | Intervention | Activity |
| 1 | Increase awareness | Promotion of Human Values Based education | Door to door Contact |
| | | | Bal Sanskar Kendra |
| | | | School Chalo Rallies |
| | | | Vidyarambh Sanskar |
| | | | Parents and Teachers interaction |
| | | | Motivational Camps for Parents |
| | | | Motivation for children not going school at home |
| | | | Formation of Educational Committee |
| 2 | Make schools reliable | Balodyan | Establishment of Balodyan (Childrens Recreational cum educational gardens) |
| | | Knowledge and skills upgradation | Development of better Teaching Techniques |
| | | | Extra Classes |
| | | | Science Fairs |
| | | Library | Establishment of library (Jhola Pustkalaya) |
| | | | Educating children through mobile library |
| | | | Mobile Science Lab |
| | | Child Competition | Child Competitions at village level |
| | | | Cultural and sports Competations |
| | | | Personality Development Camp |
| | | Functional Literacy | Literacy Classes |
| | | | |
| | | | |